Supplies & Resources
After I started getting quite a few questions about my journaling Bible on Instagram I decided to make a page dedicated to it, the supplies I favour etc etc.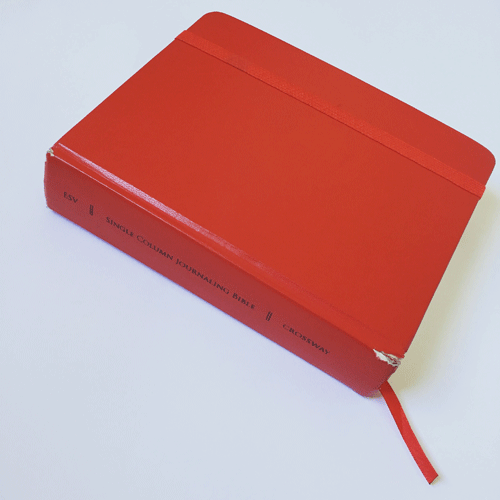 My journaling Bible
Personally I bought the single column ESV journaling Bible which is hardback with a red cover and has a handy elastic strap to keep it closed. You can no longer get this particular version [ISBN 9781433536045] but since I bought mine, there is a huge range now available! I bought it online from Eden. If you are outside the UK Amazon have a large range too.
I chose mine as I love the English Standard Version translation, but also because of the fact it was hard back yet opens completely flat. I also LOVE the fact it's a single column Bible - that makes it so much easier to read in my opinion. Also I read this review and that sold it to me enough to order one without seeing one "in the flesh" first!
You can get some really fun looking NIV ones, and you can also get KJV editions.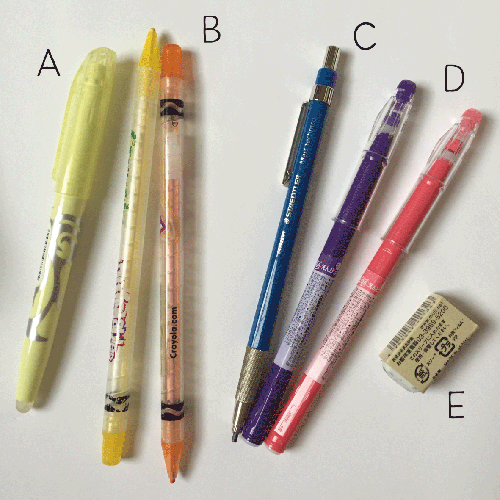 Pens / Making your mark...
For highlighting:
A - Pilot Frixion highlighters, in particular the pastel shade which are a little less in your face.
B - Or Crayola twistables, sounds crazy using crayons in your Bible, but it works. You can highlight text without bleeding through to the next page and still read the text you've highlighted through the line.
For note taking:
C - I always start with a pencil, personally I like my Staedtler mechanical pencil, but any pencil will do even those cute stumpy IKEA pencils!
D - Then I use Pilot Frixion pens, they come in a huge range of colours and the best thing is they are erasable!! So if you make a mistake you can sort it out. In the UK you can get a fair range of colours, but I found a huge pack with massive range of colours in Japan! Brilliant.
& E - A rubber, always helpful!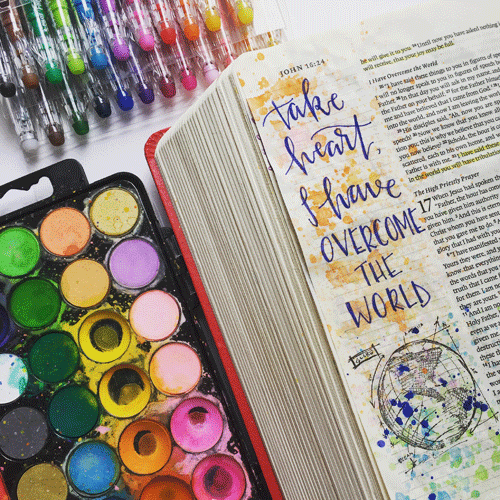 Paint
I have seen so many people on Instagram using this certain cheap set of watercolours from Michaels, it's obviously the one to use! However, living in the UK we don't have a Michaels*! I went out into the garage to rummage about in my box of art supplies, I was looking for the very nice watercolour set my patents gave me for my birthday as a child - I couldn't find them but I found this really cheap set, which I think must have been hubby's from uni!? But my point is, they are not a fancy set or even a branded set - cheap as chips, but this is the set I have used most in my journaling Bible. You don't have to spend a lot, use whatever you have!
*I have now found those "Art Loft" water colours in Hobby Craft, for just a fiver! I have to say tho, sorry guys, I don't rate it! Great range of colours, but they are chalky and flake off the page
[If you are thinking of using watercolours but a bit nervous have a look at my blog post recording my first venture with them in my journaling Bible, where you can see bleed through etc. which might help put your mind at rest.]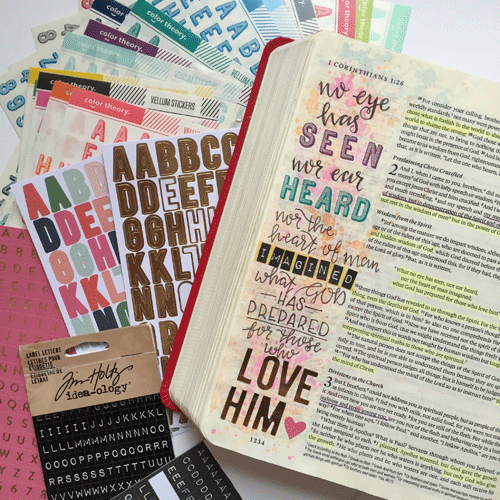 Stickers
It took me a while to be brave enough to start putting stickers into my journaling Bible... I was worried about making lump pages that I wouldn't be able to write straight on the other side. But once I took the plunge I was hooked! I love alpha stickers as much as I love alpha stamps - I'm just a bit of a type nerd! The stickers I use are from a wide range of places. Your usual scrapbook supplies and pretty stationery editions etc. I love the Color Theory Vellum Alpha stickers at Studio Calico, they are SUPER thin, so there is no chance of them bumping up a page. I also LOVE Tim Holtz idea-ology label stickers, they are a definite must for me, and I'm also rather partial to October Afternoon stickers too!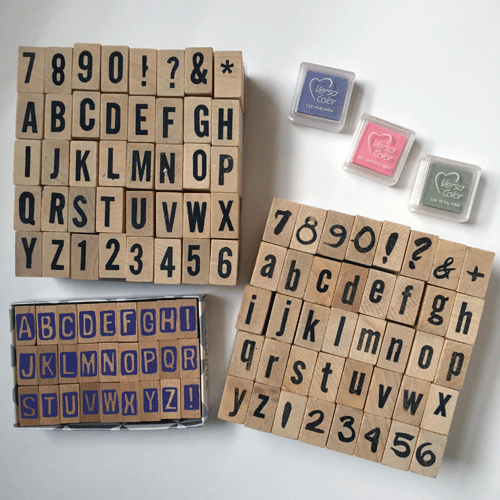 Stamps
I wanted some big letters, the best I found were by Amy Tangerine at American crafts. I have upper and lower case. It wasn't the cheapest option, but I'm thrilled with them. I have also picked up other sets of alphabet stamps along the way, but the Amy Tangerine ones are probably my favourite for a good solid message!
Ink
Personally I love Versasmall ink pads as they don't take up much room storage wise and come in a fantastic variety of colours, keep them pale and they will not bleed through.